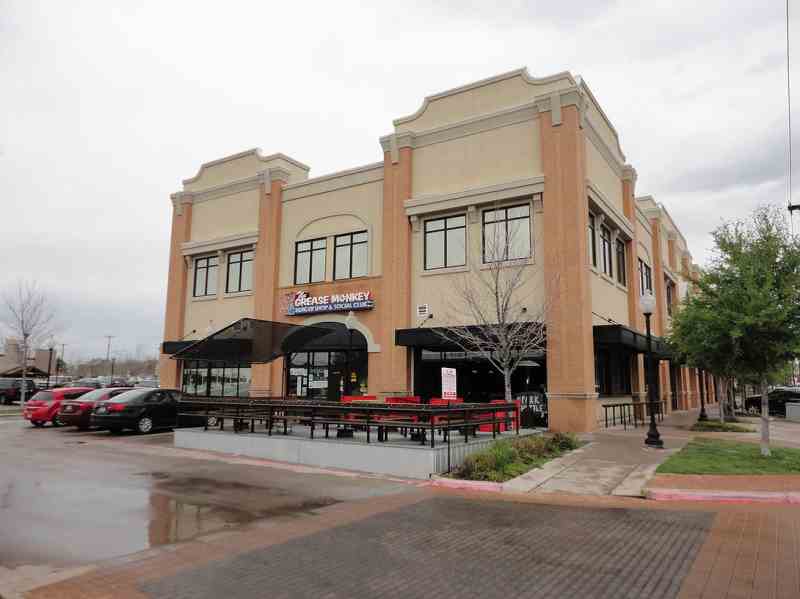 Location, Location... You Know
The location of The Grease Monkey Burger Shop and Social Club holds a great deal of history in the birth and growth of Arlington Texas.  We are excited to be a part of the REVIVAL of this historic area. Many of the first businesses that built the foundation of Arlington were started within blocks of  the property in which we will construct our restaurant. This area was once the literal CENTER of the city. The building we are in is called The Vandergriff Town Center and is located next to the historical Vandergriff Chevrolet building established in 1937. This property and business, as well as the  other automotive industry companies that help the city explode in the post war 50's, was the inspiration for the automotive/car/garage theme of our restaurant.
The Name
Once we had our theme and location for the restaurant the hard part began; what  will  we  name  it?  A trip to New Orleans for Jazzfest would turn out to be the place where it  would  come  to  us!  Joined  in N.O. by friends Robin and Ryan from Oregon for Jazzfest, we set a goal of not leaving without an  idea. If you have ever been to Jazzfest, or N.O. anytime  for  that  matter,  it  is  very  difficult  to  think  about anything other than what your next beverage might be. The first  day  and  a  half  we  did  exactly  that!That night however Robin must have only been pretending  to  drink  those  15  vodka  tonic  splash  of cran's because she stopped us in our tracks with confidence and only slightly slurred speech. 'I've  got it! …The Grease Monkey!' How, when and where she came up with it remains a mystery to all. All I know is that we are happy that she did. It completed the concept and  allowed  us  to  move  forward. I  know  one thing, no matter what happens to us  and this  business, whatever  the  success   moving   forward,   I  will always have that special  moment on a  dirty,  wet  street  in  New Orleans  where this name  was  hatched. Ryan, Robin and Sarah, I thank you! We all thank you!
Social Club?
The term "social club" comes from the social aid and pleasure clubs in New Orleans. My favorite band is from New Orleans called The Subdudes. My friend Carter Baumert introduced them to me around 1997 and I have dug them ever since. They have a song that talks about these clubs and I was always interested. These clubs are a big part of the second line parades in N.O., but they also are big in their communities raising money, helping with financial hardship, etc. In more modern times they serve as a way to unify the community and have used music to do so. I thought this  was a good description of what we would like to be in the new downtown area.  - Greg